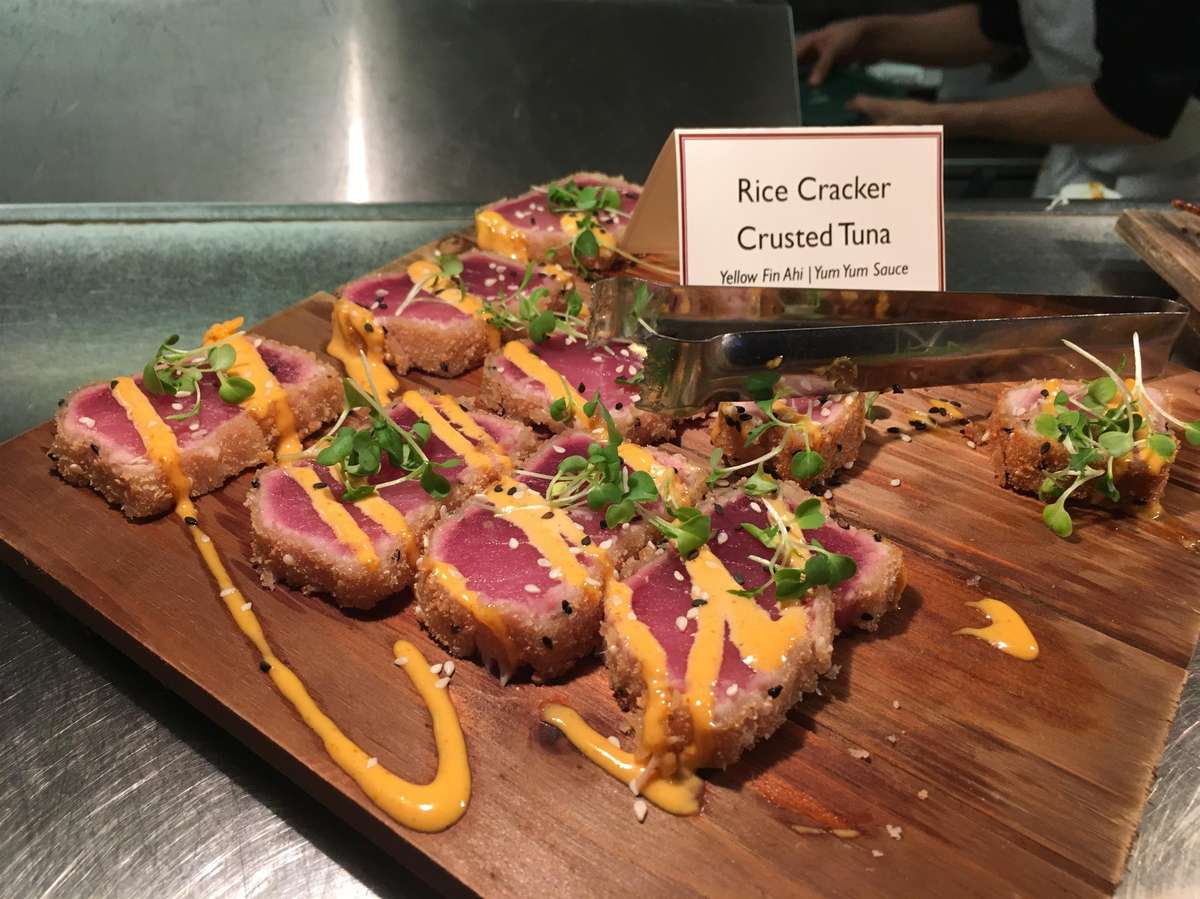 JUST APPS
Maybe the boss just wants to take everyone out for a casual happy hour. No problem! We have a long list of awesome bites & snacks that you and your friends can enjoy while knocking back a couple craft beers or expertly made cocktails.
The following packages are for parties of no less than 20 guests. prices are per guest and do not include tax or gratuity. Accommodations can be made and exceptions can be granted however the following pricing is subject to change based on those requests.
2 Selections $14
3 Selections $20
4 Selections $25
5 Selections $30
6 Selections $37
7 Selections $45
8 Selections $55
Our Chef keeps our menus fresh & seasonally relevant. Some of the items you see here maybe subject to change based on seasonal availability of ingredients and sustainability.
PASSED/STATIONARY
Crostinis
Toasted baguette with olive oil, salt & cracked black pepper with your choice of topping. Choose up to 3:
-House Made Southern Piimento Cheese
-Sliced Hanger Steak & Horseradish Cream
-Smoked Salmon & Whipped Goat Cheese
-Olive Tapenade (Vegetarian)
Southern Cubanos
Smoked pork shoulder, VA pit ham & Swiss cheese with B&B pickles & yellow mustard.

Deviled Eggs
Classic Southern style deviled eggs with Duke's mayo.

Rice Cracker Crusted Ahi Tuna
Flash fried & served with dynamite sauce & scallion. +$3
Quesadillas
-Cheese & Scallion -Vegetarian (onions & roasted red peppers).
-Grilled Chicken +$2 or Grilled Steak +$3
Beer Cheese Pretzel Bites
Port City Optimal Wit beer cheese, Bavarian pretzels, and smoked paprika.
Reuben Spring Rolls
House corned beef, sauerkraut, & Swiss cheese. Served with our special sauce for dipping. +$2
Philly Cheesesteak Rolls
Thinly sliced prime rib, caramelized onions, grilled mushrooms, & Swiss cheese. Served with our special sauce for dipping. +$2.5
Ahi Tuna Wonton Crisps
Crispy wonton, wakame, sriracha aioli, & citrus soy glaze. +$3
Thai Chicken Satay
Peanut hoisin, sesame, & scallion.

Crab Rangoon
Lump crab meat, lemon, & cream cheese. Crispy wonton & sweet chili sauce. +$4
Loaded Potato Skins
Mixed cheese, applewood smoked bacon, sour cream, & scallions.


Cured Salmon Crisps
House cured Atlantic salmon, hand cut fried potato chip, whipped goat cheese, & dill. +$2.5
STATIONARY
Hummus & Pita
Traditional chickpea hummus with grilled pita, cucumber, carrot, celery, extra virgin olive oil & marinated olives.
Crudite Platter
Assortment of crunchy vegetables with your choice of our house made blue cheese dip or herb buttermilk ranch.
Crispy Wings
Choice of sauce: Buffalo(mild/medium/hot), Sriracha Honey, BBQ(mild/hot), or Honey Pepper. Served with our house made blue cheese and celery. +$4
Bacon & Cheeseburger Sliders
Certified Angus Beef patties, applewood smoked bacon, American cheese, & WJT special sauce on soft potato rolls. With a pickle wheel & cherry tomato. +$2

Falafel Sliders
Deep fried falafel, cucumbers, & house lemon aioli on a soft potato roll.
BBQ Pork Sliders
Carolina style BBQ sauce, celery seed slaw, & house made B&B pickles on soft potato rolls. +$2.5
Crab Cake Sliders
Chesapeake lump crab, Cajun remoulade, & celery seed slaw on soft potato rolls. +$6
Grilled Wings
Dry rubbed, lager basted, & served with Green Goddess sauce. +$4
Chips & Dip-Choice of
-French onion & hand cut kettle chips.
-7 Layer Dip & hand cut tortilla chips.
-Fire roasted salsa roja & hand cut tortilla chips.
Spiced Peel & Eat Shrimp
Served with classic cocktail sauce & fresh lemon. +$8 (also available by the pound)
Raw Bar Station
Fresh shucked oysters on the half-shell, Alaskan Snow Crab leg clusters, spiced peel & eat shrimp & PEI mussel salad. Served with fresh lemon, cider mignonette & classic cocktail sauce.
$500 per station.
~Add Cold Water Lobster Cocktail~
Market Price